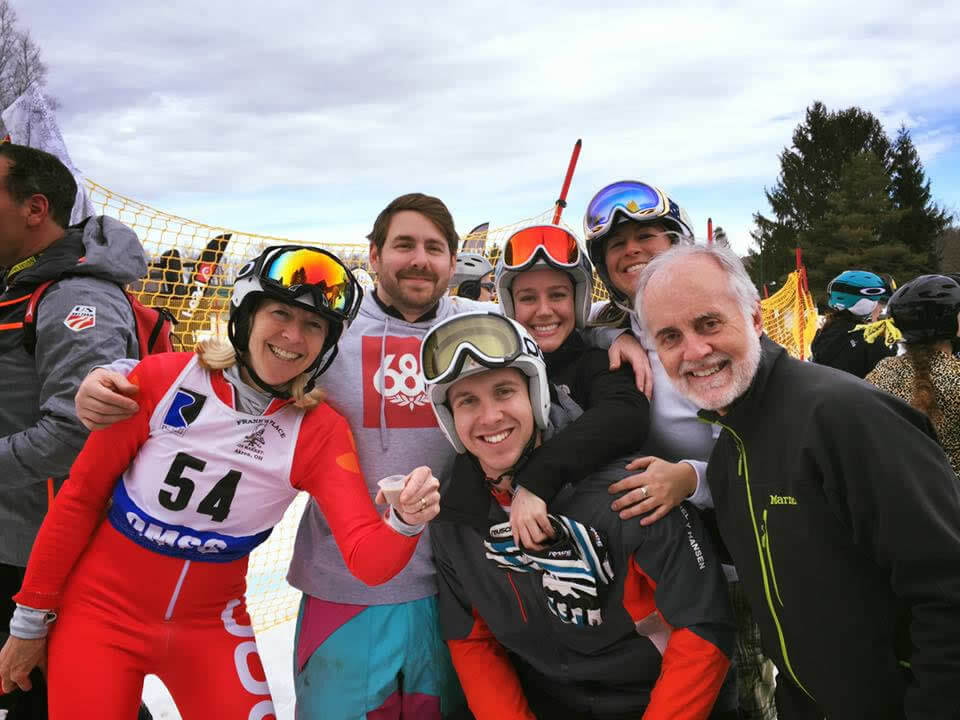 Go Home Mother Nature, You're Drunk.
2017 Race Season Wrap Up
Becky Bertuzzi, Race Chair
I'm sure that we all had high hopes for a great winter. I know the weathermen kept getting our hopes up with Farmer's Almanac predictions. I really need a job where I can be wrong 50% of the time and not get fired … but I digress.
As the saying goes, when life hands you lemons … you grab some vodka, sugar and do lemon drops (wait, that's not how it goes?) Despite Mother Nature's little bender she took us on and continues to take us on, another race season, and my first season as race chair, is in the books. And my, was it eventful!
We started at the season at Holiday Valley with fair conditions, a new group set up and the reorganization of the snowboard classes. Competition was fierce all around and it was a great kick-off to the season. Some were getting ready to race at Swain in two weeks, while a majority of us were counting down the days to our trip to Chamonix, France. I turned over duties to Bootsie Ricketts, Mike Walters, Heidi and Rick Reinecker, Doug Majkrzak and Janet Slade and bid them adieu. I cannot thank these committee members enough for covering the races at Swain and Snow Trails while we were overseas.
Back in the good old USA, we headed to Boston Mills for our annual charity race. It was a sunny day with a good turnout. This year's charity was OROC (Outrun Ovarian Cancer), a charity that is near and dear to Chuck Horning. We lost Polly last year to ovarian cancer and Chuck helped to raise substantial funds for the organization. Chuck was also selling some of Polly's equipment and proceeds would go to OROC as well.
We headed down the stretch of the season with a visit to our friends at Kissing Bridge where we had the chance to race a slalom on Holly. As always, the KB crew set up great courses and were accommodating to CMSC. There was even a TRex appearance at the end of the snowboard races … Unfortunately, due to Mother Nature thinking it was an awesome idea to send a low pressure system full of rain and fog through Ellicottville, we had to cancel the Holiday Valley duals.
That left us with Swain and Bristol and the weather at Swain wasn't looking too promising. Despite the best efforts of Swain to stockpile snow in anticipation of warmer temperatures and wet weather later in the week of the races, we had to cancel the races and Snowboard Combined. This was a tough call on both the committee and on Swain and was a disappointment for everyone involved.
The warm weather stuck around in the early part of the week of Bristol, but the Bristol race crew kept the snow together with about four tons of fertilizer. We arrived at Bristol Friday night to light snow and the anticipation of a great Ski Combined weekend, with a twist: there would be snowboard races at Bristol. We were even paid a visit by a journalist from Syracuse University to talk about our program and our love of skiing and snowboarding. It was a magical, magical weekend – especially when the unicorns showed up!
We wrapped up the season, crowned our combined champions and headed on down the road, another race season in the books. A shorter race season, but a season of fun, memories and camaraderie nonetheless.
I want to take a minute and thank my committee members: Bootsie Ricketts, Heidi Reinecker, Rick Reinecker, Frank and Anne Houdek, Janet Slade, Larry Foote, Beth Skalak, Jerry Vargo, Doug Majkrzak, Mike Walters, Chuckles McConnell and Bob Reiland.
You all have been such a tremendous help to me this year and I appreciate the advice you have given me. I also want to thank the racers. Thanks for coming to race! You made my job enjoyable and it was nice to hear the compliments of a job well done throughout this crazy season. And bring some friends with you next year, okay?
Until next year. Maybe by then Mother Nature will have her meds straightened out.
The Commissioner.