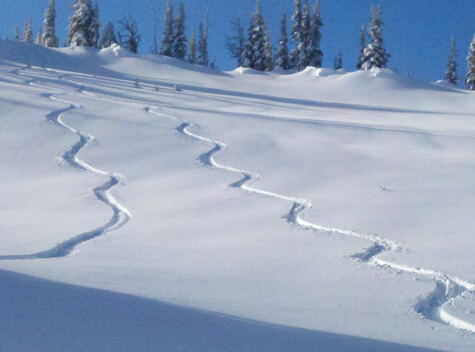 Feel like going somewhere new this spring? Pick your locale based on this guide, illustrating everything you need to know about different resorts around the world during skiing's favorite season.
Where: Arapahoe Basin, Colorado
Closing Date: TBD, but typically June or later
Why Go: With a summit elevation of 13,050 fee, A-Basin receives some of the best late snow in the West and boasts the longest season in Colorado.
Don't Miss: Even if you're not a college kid anymore, you'll still enjoy kicking back with a beer at A-Basin's "beach".
Also Try: Loveland, Colorado. Want to feel like a local? Head here. Denver-based skiers count on Loveland for late turns, often into early May.
Where: Las Lenas, Argentina
Closing Date: Mid-October
Why Go: As the ski season fizzles out at home, it's just getting started at South America's largest ski area, with 4,035 vertical feet, 40 trails, and 12 lifts.
Don't Miss: Lay over a few days in Buenos Aires on your way there or back.
Where: Big Sky, Montana
Closing Date: April 16, 2017
Why Go: Granted, Big Sky doesn't push the season deep into spring, but you'll enjoy January conditions in April. And if you like to hike, May
Don't Miss: You're in top late-season form, so take your measure of the big Couloir
Where: Whistler Blackcomb, B.C.
Closing Date: Whistler: April 23 – Blackbcomb: May 22
Why Go: Huge vertical, huge terrain, and a night in Vancouver on the way home
Don't Miss: Flying through the air on a Ziptrek Ecotour
Where: Vale Nevado, Chile
Closing Date: Early October
Why Go: While most of North America is suffering heat-waves in August, the snow south of the equator is in its prime.
Don't Miss: Heli-skiing from the resort
Also Try: Portillo, Chile. The soul of South American skiing, remote Portillo and its single hotel offer skidom's most intimate resort experience. Share a table in the dining room or a ride on the legendary Roca Jack lift with the world's best ski racers, who train (and play) here all summer.
Where: Timberline/Mt. Hood, Oregon
Why Go: Timberline stays open all summer, closes for two weeks of maintenance after Labor Day, then reopens Palmer snowfield on a weekend basis.
Don't Miss: Sign up for a summer race camp.
Also Try: Mt. Bachelor, Oregon. It takes a while for 370 average annual inches of snow to melt, so Bachelor usually stays open until May. Hopefully this year will be no exception.
Bonus: kids and seniors (70+) ski free every day.
Where: Alyeska, Alaska
Closing Date: April 16, 2017
Why Go: To experience the Alaskan wilderness. It's extreme.
Don't Miss: A day cruise into stunning Resurrection Bay: Orcas, Humpbacks, Bear Glacier. Not your typical off-slope day.
Where: Zermatt, Switzerland
Closing Date: Open all summer and fall.
Why Go: Zermatt has the world's most expansive glacier-skiing terrain, with mind-blowing views of the Matterhorn.
Don't Miss: Exploring Europe's most magical mountain village.
Where: Squaw Valley-Alpine Meadows, California
Closing Date: Late May
Why Go: With the season Tahoe has seen, this spring is going to be one to remember.
Don't Miss: New guided side-country skiing
Also Try: Mammoth, California. As long as there's snow, there's skiing. In fat, the resort often skis until July 4, giving it one of the longest seasons of the country.
Where: Treble Cone, New Zealand
Closing Date: Late September to early October
Why Go: If you've ever been to New Zealand, you already know that its raw beauty is astounding (There is a good reason Lord of the Rings was filmed here.) Don't Miss: A layover day in Queenstown. No city we've found enjoys itself more.
Also Try: Coronet Peak, New Zealand. Just outside of Queenstown, Coronet is probably New Zealand's most popular ski resort and offers a raucous night-skiing scene.
Where: Mount Snow, Vermont.
Closing Date: TBD
Why Go: New owners installed 251 fan guns a few years back and have exhibited great dedication to early- and late-season cover.
Don't Miss: Blow the froth off some of the region's best micros during Brewer's Festival April 1st
Also Try: Killington, Vermont. The Bear Mountain Challenge (April 8) is still the king of bump-offs, and Killington skiers understand that spring skiing is primarily a great excuse to party.
Also Try: Tuckerman Ravine, New Hampshire. About when the resorts close, Tucks is just getting warmed up. Check the Mt. Washington safety reports, then get ready to hike for some sweet, steep corn-snow turns.
Also Try: Sugarbush, Vermont. The Bush blasts North-facing Stein's Run with deep manmade, ensuring sweet spring bump lines well into April. When you've had enough, soak up the scene on the Castlerock Pub's sunny patio.
Where: Snowbird, Utah
Closing Date: Sometimes as late as July 4th . Why Go: The Bird is a quick 29 miles from the Salt Lake Airport – perfect for a last-minute late-season ski weekend.
Don't Miss: Watching the sunset from the Cliff Lodge's rooftop hot tub.
Also Try: Snowbasin, Utah. Because it's not on national forest land, Snowbasin can operate as long as snowpack allows. You'll operate as long as your quads allow.