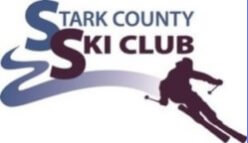 Stark County Ski Club: From a small group of skiing Timken employees back in 1983, the club has grown to over 250 members, employees and non-employees. The club is now known as the Stark County Ski Club and membership is open to anyone, individual, couple or family with interests in winter ski and board season.
Stark County Club is a friendly group of skiers and snowboarders with lots of opportunities to ski. We ski every week during the winter months. We offer day, multi-day and week long ski trips. We participate in fund raising events such as HOF Marathon and HOF week activities to subsidize the cost of our ski trips thus keeping our prices low for our members. We also have social activities year-round. Summer months include gatherings at wineries, annual camping weekend, rafting  and weekly biking. New members are welcome.
Type of Group: Adults, singles, couples, families.
Size: 250+
Meeting Location:   Mulligan's Restaurant and Pub 4118 Belden Village Avenue NW Canton 44718
When: 3rd Tuesday of the month September through March
Time: Social hour at 6PM, meeting at 7 PM.
Website: starkcountyskiclub.org
Info:  http://starkcountyskiclub.org
E-mail: president@starkcountyskiclub.org